A bike night series turned community for
All bikes, all types
Our bike nights are really just about hanging and shooting the shit and showing up on whatever you ride. What follows is attending events, planning rides, #B3BatSignal and wrenching dates. The Boston motorcycle community has been overhauled. Wander around and you'll realize you need to #justshowup to find exactly what you didn't even know you were missing.
culture is defined by its people
For the babes, bring the beards
This space was created to attract women riders, and women interested in riding, without excluding anyone with a passion for life on two wheels. Like wildfire, it's drawn folks from all rides of life and it has just a single, simple rule: 'Don't be a dick.' Just tell all your friends, make some new ones, randomly go on a ride to antique hunt or chase hot air balloons—that's the crazy spontaneous riding season you'll have if you decide to show up. Put your helmet on and get ready!
a new community to find riding crews
a welcoming space for moto babes
Custom rides from all decades
floofs with the same thrill meter
roll in, roll out whenever you want
focusing on craft has created
The most eclectic moto event around
This is not just for cafe racers, choppers, sport bikes, vintage, baggers… or any one crew. It's a mash of everything, including a range of vendors and sponsors that provide a quirky gamble of what you might find. This event is meant to not only show off metal machines, but reflect the diverse people who share the same passion.
SLACK CHATS
Want to plan a quick ride, or a long trip? Want to talk about your build or get advice on gear? We created a Slack Channel so this community can talk all the f*in time, share photos and even get help when you breakdown. Get in on this, it's free, it's open to all.
LOCAL CRAFTSPEOPLE
First night, a vendor rolled up, rolled out a blanket, unpacked his pin-striping art and was live painting. B3-ers are super talented and we want you to promote your wares and small business. It doesn't even have to be moto related —the wine gals were a hit ;) See more on how to vend.
COMMUNITY TABLE
We're here for you, to highlight the cool shit you're doing or what's important to you. The Community Table is for you to drop flyers, put out donation collections, business cards, whatever it takes to get the word out about your initiative. We're thrilled to provide visibility.
RANDOM ACTIVITIES
Each event is a toss up of what you might find. We've had coffee stands, beard and bike competitions, mug shot sessions, patch sewing nights, caricature artists, bike demos, ice cream trucks, and more. The variety and new friends you make will turn you into a regular who's always excited.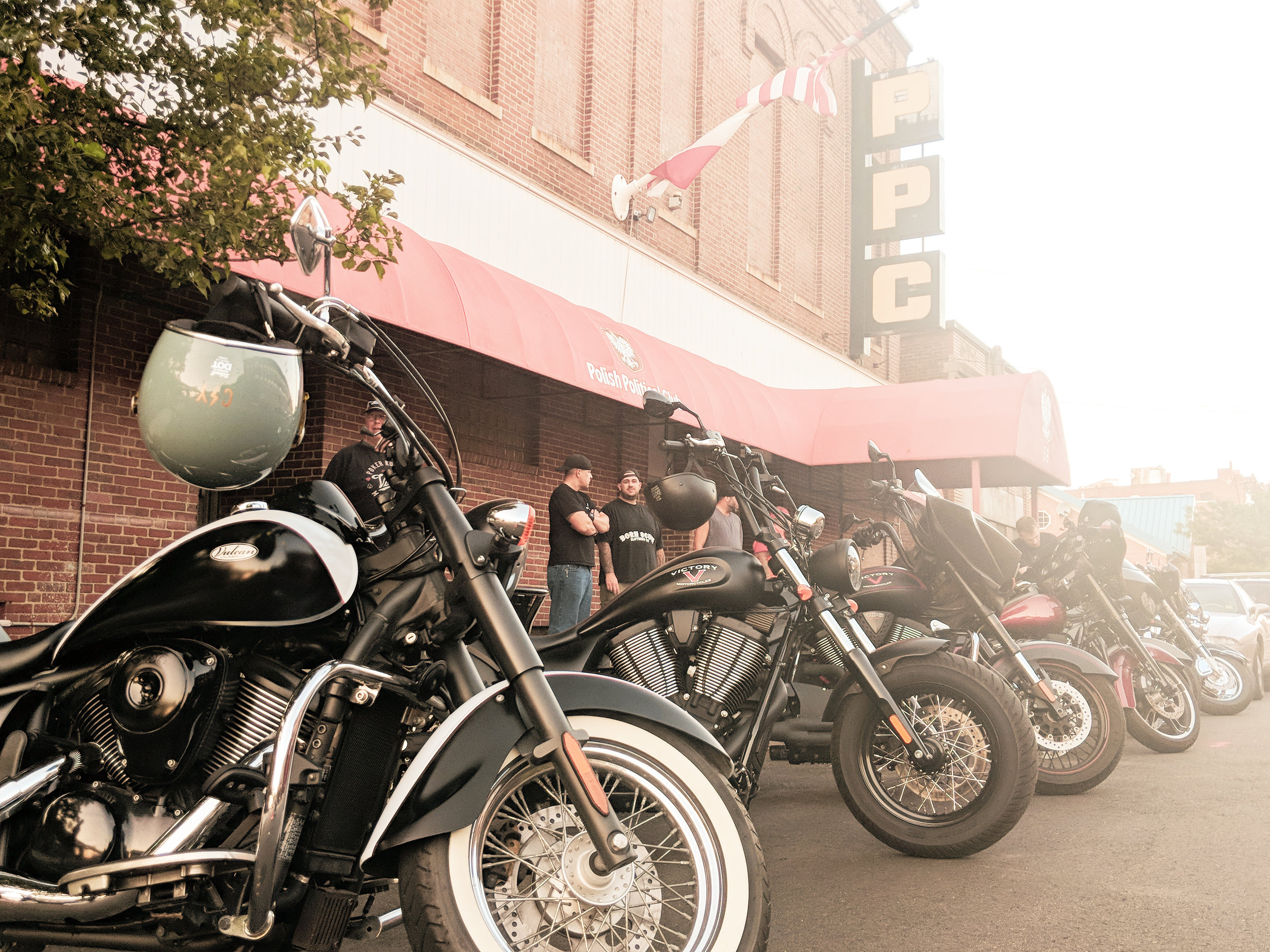 As city central -and moto friendly- as possible
PPC: Polish Political Club Chelsea
It's part grit, part all the necessities to a dern good time. Nestled right under the Tobin, it's easy access no matter what part of the city you come from — and yes, traffic is everywhere, it's Boston, we do what we can. In a parking lot sized to make friends, you'll drool over many cool rides, while enjoying a drink from the cash bar, munching on eats from a cash food truck and perusing local vendors and sponsors.